The Complete Chopin Mazurkas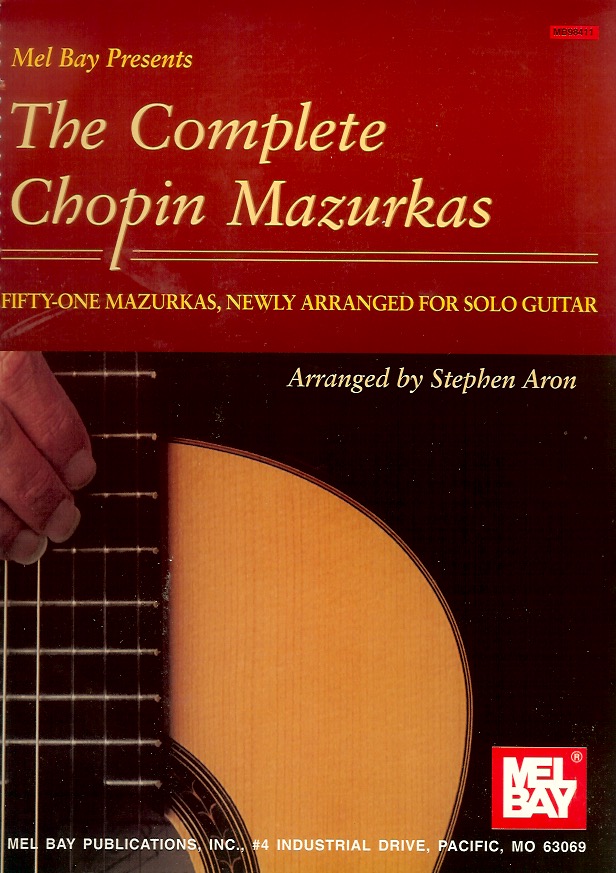 The Complete Chopin Mazurkas
"Where to begin? The word 'monumental' does not seem to give justice. Stephen Aron's exhaustive work...would seem to require a life's work, but there it is. I hold it in my hands and am amazed...a carefully realized, historic, and important new work." (Guitart)
"Mr. Aron's artistic integrity and moreover love of his subject shines out for all to see...the best attempt yet to make the works of Chopin available to the guitarist." (Classical Guitar Magazine)
"Very exciting" (Acoustic Guitar Magazine)
Published by Mel Bay Publications, 253p.
Many of these arrangements can be heard on Stephen Aron's CD My Favorite Chopin Mazurkas.
WHY THE CHOPIN MAZURKAS?
I had been arranging piano music for solo guitar for many years when the notion of this collection occurred to me. After listening closely to the entire set for some time I determined that the project was not only possible but desirable, and set about the task of creating the arrangements.
My motivation was manifold. First and most compelling, I loved the pieces and felt I understood them deeply. A lifetime Chopin devotee, his musical style and harmonic language were well known to me; it had long been a dream to play his music. Chopin's own performances are repeatedly described as soft to the point of fault. One listener described the urge to put his ear flush against the piano soundboard to just hear him. What pianist-composer more readily invites guitar interpretation than one whose own performance is so soft as to be "sylph-like"? Most of Chopin's scores, though, for a "complete" treatment, I found ungracious on the guitar: from the Nocturnes (too complex and wide-ranged) to the Waltzes (mostly too fast), to the Etudes (too pianistic), to the Polonaises and Sonatas (too large and heroic), little seemed to invite consideration. Except the Mazurkas. These unique works offered a set of characteristics that powerfully invited a guitar interpretation.
First, they are by most standards, miniatures. By far, the majority of the pieces are short; most of the longer ones incorporate several repeats, or are long by virtue of a slow tempo, not a large volume of material. The miniature is a form that is well suited to the guitar, given its limited dynamic range. The guitar repertoire is replete with works on this scale; miniatures are often more effective than a given guitar composer's larger-scale efforts.
They feature mostly simple textures. The majority of the material is comprised either of simple melody in the treble with simple bass-chord-chord accompaniment or block-chords, both textures comfortably suited to the guitar. In Mazurkas whose textures open up into more complex counterpoint, melody in the bass, or canonic style, these would present more challenge to render convincingly, but their number, as a percentage of the whole, is low.
Their tempi are generally moderate. More are slow than fast, and in the faster ones, the texture is usually thinner. As a rule, if the required tempo of an original is not fast, then the chance of sounding convincing in an arrangement of it on the guitar is much improved. In this regard, the Mazurkas are perfect.
They are derived from a folk model. So much guitar music is folk-based, the point hardly needs to be made here that folk music-inspired compositions find themselves at home on the guitar. While the majority of such music is Spanish or South American in origin, there is no reason to discount folk music of Poland as a potentially rich resource in the same regard.
They are sweepingly melodic and romantic. Naturally, the guitar is at home in all styles of music; nevertheless, many people's first and most enduring attraction to the guitar is a product of its ability to convey intimate, expressive melodies. The most famous and oft-performed and recorded guitar works fall into this category. Ironically, the mid-late 19th century, the period when this compositional style was at its apex, is a period during which relatively little high quality concert guitar music was published (compared both to piano music and to the volumes of guitar music published in the period immediately preceding this one). This historical period represents an area of the repertoire that is, in many ways, weak. The Mazurkas would generously fill this gap.
There are lots of them! Thirteen Opuses, and more, totaling fifty-one compositions, represent a "cycle" that would be unique in our repertoire. Once rendered playable by the arrangement process, it would offer guitarists of every level an infinite number of possible groupings for performance, including but by no means limited to a two-concert full-cycle performance (it is about 150 minutes of music).
In summary, in the Mazurkas, I found an enormous resource of light-textured, moderate tempo, folk-derived, romantic miniatures, by a composer whose pedigree required no defense. They would at once be a collection from which students could select a few for recital, or from which a giant tour-de-force performance project could be assembled, worthy of the greatest musical personalities of our day.
If generally unfamiliar with these works, the guitarist will delight in their range of expression and texture. They include works both danceable and hummable, sorrowful and joyful, strophic and through-composed, harmonically straightforward and harmonically adventurous (even torturous), virtuosically fast and epitaphically slow. There are some that are so easy on guitar they might have been originally conceived for it; there are others that offer a real challenge to even the experienced player. In short, there is something here for everyone.