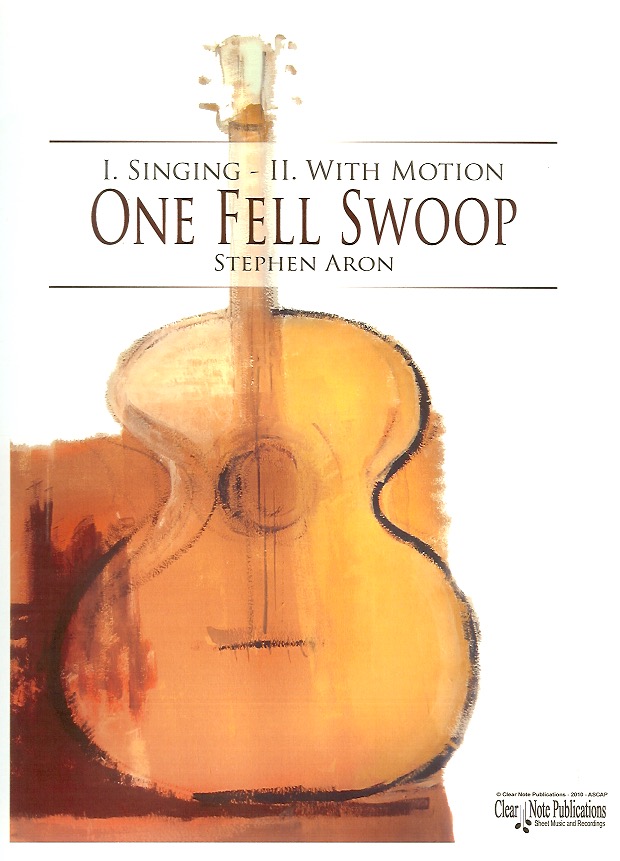 One Fell Swoop
"Occupies a universe of sound that manages to be completely individual throughout...you may have a lot of fun playing these substantial pieces" (Classical Guitar Magazine)
Published by Clear Note Publications, 13p.
This piece can be heard on Stephen Aron's CD One Fell Swoop.
One Fell Swoop is a solo work written in a style informed by both Romantic-period phrasing and melodic shapes and modern post-tonal harmonic language. Its texture is rich and full, almost pianistic. The particular melodic and harmonic material of the piece is inspired by an unusual tuning: 6th string to F-natural and 4th string to C-sharp.
The first movement, "Singing" incorporates a steady 3-against-4 rhythm to underpin a sweeping Romantic-style melody. This material is contrasted by a brisk central section which introduces the primary motive over an unusual arpeggiated accompaniment, before returning to the earlier melodic theme. The second movement, "With Motion" begins with a heroic gesture, a fast, exotic scale, then reintroduces the primary motive for a series of statements, each one with a different contrapuntal accompaniment. This texture is interrupted by a slow and plaintive melody which is developed over the course of five statements until it erupts into a return of the movement's opening gesture. The work ends in a flurry of cascading and harmonically surprising arpeggii and a virtuoso cadenza.