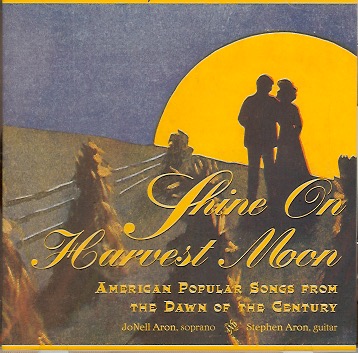 Shine On Harvest Moon
"A surprisingly successful project...he plays with vitality and wit...this CD will obviously have strong appeal" (Classical Guitar Magazine)
"Gentle and charming...guitar accompaniments are delightful...warmly recommended" (Fanfare)
"Exceptional and appealing...get this delightful CD" (The Rag Times)
PLAYLIST
JoNell Aron, soprano & Stephen Aron, guitar
1. On a Sunday Afternoon (Sterling-H. von Tilzer) 3:41
2. Coax Me (Sterling-H. von Tilzer) 3:30
3. A Bird in a Gilded Cage (Lamb-H. von Tilzer) 4:13
4. Under the Bamboo Tree (Cole) 3:44
5. In My Merry Oldsmobile (Bryant-Edwards) 2:54
6. Pleasant Moments (Joplin) 3:05
7. Let Me Call You Sweetheart (Whitson-Friedman) 3:21
8. After the Ball (Harris) 5:13
9. Goodbye, My Lady Love (Howard) 2:43
10. Shine On Harvest Moon (Bayes-Norworth) 2:37
11. Peacherine Rag (Joplin) 3:59
12. Daisy Bell (A Bicycle Built For Two) (Dacre) 1:44
13. Teasing (Mack-A. von Tilzer) 3:31
14. Moonlight Bay (Madden-Wenrich) 2:39
15. The Chrysanthemum (Joplin) 4:16
16. You Tell Me Your Dream, I'll Tell You Mine (Rice, Brown-Daniels) 4:43
17. When You Were Sweet Sixteen (Thornton) 5:10
18. Let the Rest of the World Go By (Brennan-Ball) 4:05
total playing time: 67:07
The arrangements of the songs on this CD can be purchased in the book On A Sunday Afternoon.
NOTES AND LYRICS
The time frame of this collection of songs, 1892-1912, was a period in American history of unprecedented exuberance and optimism. Before the World Wars and the Great Depression, it was a time of robust industrial expansionism and increasing American influence in world affairs. It was the dawn of the age of the trolley and the subway, the automobile and the airplane, the telephone and the electric light. In family affairs, the man was the undisputed head of the household; the Women's Suffrage movement did not give women the vote until 1920. High morals, influenced by the fashions of Victorian and Edwardian England, held popular sway and revered the family as sacrosanct. The mother was considered beyond reproach, a boy's best friend, while sisters and daughters were sheltered from contact with the outside world at all cost. Men maintained a double standard which permitted them to frequent places of ill-repute while keeping their families at a safe and comfortable distance. Naturally, in the midst of near-universal repression, the bawdier side of life thrived. Saloons, gambling joints, burlesques, and brothels were commonplace and the songs of the era celebrated both extremes and the ample territory in between with vigor and relish.
Songs came to life or failed on the stage. There was no radio or record industry to rely upon. Defining the lifestyle of the popular singer during this period was the performance venue of vaudeville. The vaudeville circuit saw its modest beginnings in the 1880's, but quickly flourished into a big business, and became known as a highly respectable venue for, specifically, "family" entertainment; producers were typically vigilant in insisting that performer's routines were suitable for women and children. The vaudeville show, on which virtually all of the songs contained on this recording were premiered and regularly heard, was a magnificent conglomeration of dissimilar entertainments, presented by a large number of performers. Typically, an evening would include several short skits, comic monologues, comedy routines, animal acts, instrumental musical numbers, songs, acrobatic routines, a men's quartet, and so on. Authentic variety shows, they achieved extraordinary popularity throughout the early part of this century, finally to be replaced by moving pictures, a development many lament to this day.
Stylistically, the songs collected here range far. During this period, before the categorizing of music into discreet genres took hold, there was little distinction made between differing compositional styles. Popular music was considered more accessible and less serious than concert music, but singing and playing styles were essentially undifferentiated. It was commonplace for successful opera stars to do a turn on vaudeville between more formal engagements; their singing style was suitable for much of the popular song of the day. As the turn-of-the-century saw the beginnings of the blues, ragtime and jazz each start to take hold, these styles were as yet fluid and largely undefined. During the 1890's, the influence of these musical innovations of black Americans began to be felt in the popular compositions of mainstream white composers, often watered-down or modified to accommodate their needs or abilities. Hence, by 1900, popular music included formal sentimental ballads which in many ways resembled European art songs and operetta("A Bird in a Gilded Cage," "When You Were Sweet Sixteen"), bluesy, slightly bawdy songs ("Coax Me," "Teasing"), songs with roots in ragtime ("Under the Bamboo Tree"), comic, or novelty songs ("In My Merry Oldsmobile," "Goodbye My Lady Love"), and jazzy songs ("Shine On Harvest Moon"). Yet all were performed by the same artists, in the same venues.
The instrumental numbers on this recording, on the other hand, are uniform in both style and composer: piano rags of Scott Joplin. Composed during the same period as the songs (1901-1909), they offer a glimpse of the most popular instrumental music of the day. While Joplin was not the only ragtime composer who was successful at this time (others included Tom Turpin, Louis Chauvin, James Scott, Joseph Lamb, and Scott Hayden), Joplin was the most musically sophisticated, refined and prolific, with an oevre of some five hundred compositions.
Some listeners may be curious about the use of the guitar for this music. The classical guitar was present and gaining in popularity in America at this time. American schools of playing had emerged early on in the 19th century, and continued to flourish. In addition, the "folk" guitar had caught on, in part through the success of the cheap models offered through the Sears catalog. Songs which were popular were played by anyone, on whatever instrument was available, including the guitar, banjo, mandolin, and, later, the ukelele. Publishers were quick to capitalize on the increased sales possibilities of offering music in a variety of arrangements, and it is common to see listings on sheet music of alternate versions for piano solo, four-hand piano, brass ensemble, solo instrument with piano, mandolin with guitar, men's chorus, etc. It is true, though, that classical guitar arrangements were generally not among those marketed, for the simple reason that there were too few accomplished classical guitarists at this time in America to justify the arrangements. The inclusion of the guitar implied chord-symbol-type strummed accompaniments.
The arrangements on this recording, on the other hand, accurately reproduce the piano accompaniments originally published, including melodic interludes and original bass lines. In some cases, the original is subtly amplified with additional countermelodies or fuller harmonies, in the way an accomplished pianist will improvise a slightly fuller version of the accompaniment based on his abilities, experience and knowledge of style. In the case of the ragtime solos, these arrangements are fully faithful to the originals. In fact, they work extremely well on the guitar and sound quite at home there! This music becomes more personal in these readings with the guitar than is possible on the piano, and we feel that this more intimate aesthetic is highly effective and eminently suitable; that it is, in fact, in the true spirit of the originals.
These songs of yesteryear, of a long-bygone era, seem as fresh and poignant today as they might have been then. They offer a peek at a world less complicated, more emotionally honest, more...innocent. In today's world, such a music brings with it unexpected delights. At our concerts, we are thrilled when our elders respond so warmly to these familiar gems their parents and grandparents sang at the piano. We have been especially delighted, though, to discover that our peers and those younger respond with just as much enthusiasm, even when the music is utterly new to them. In this music, we have a true American treasure, an authentic American "art song" tradition. We would be most gratified if through this modest effort, we have helped that tradition to "Shine On" into the future.
----Stephen Aron ©1997
1. On a Sunday Afternoon
words by Andrew B. Sterling, music by Harry von Tilzer, 1902
A classic example of turn-of-the-century optimism, this 1902 hit combines an irresistible waltz tune with mention of several favorite New York area leisure spots (Coney Island, the Long Island beach/amusement park; Rockaway, the southern Manhattan summer resort; the Hudson River, etc.) This song was just one of numerous huge hits penned by Harry von Tilzer(born in Detroit in 1872 as Harry Gumm). In 1902, von Tilzer, having moved to New York, opened his own publishing house, which he ran until his death in 1946. His first million-seller, My Old New Hampshire Home, with lyrics also by Sterling, was published in 1898. The 1900 hit A Bird in a Gilded Cage cemented von Tilzer's success, and was followed by such memorable titles as Down Where the Wurtzburger Flows (1902), Wait Till the Sun Shines, Nellie (1905), and I Want a Girl Just Like the Girl That Married Dear Old Dad (1911). He claimed to have written over eight thousand songs!
There's a day, we feel gay if the weather's fine.
Every lad feels so glad, if the sun does shine.
In his best, he is dressed, and with smiling face,
He goes with his Pearlie, his own little girlie, to some nice place.
On a Sunday afternoon
In the merry month of June,
Take a trip up the Hudson or down the bay,
Take a trolley to Coney or Rockaway,
On a Sunday afternoon
You can see the lovers spoon,
They work hard on Monday
But one day that's fun day
Is Sunday afternoon.
Coming home, starry dome with a soft moonshine,
Lover's kiss, oh what bliss, oh what joy divine.
'Good-night Joe', 'Good-night Flo, don't forget now dear,
Next Sunday at two, I'll be waiting for you on the old Iron Pier.'
On a Sunday….
2. Coax Me
words by by Andrew Sterling, music by by Harry von Tilzer, 1904
One common performance genre was given the unfortunate name "coon song." Derived from the successes of the black-face routines often featured in the traveling minstrel shows of the mid-1800's, in which white actors and singers literally colored their faces and performed caricatures of blacks, "coon songs" are often marked by a none-too-subtle condescending or patronizing tone. While such songs are justifiably out of circulation today, they were immensely popular one hundred years ago, when public sensibilities were not as attuned to the plights of American blacks as they are today. This Harry von Tilzer number must be considered a "coon song" because of the reference to the "dusky" lovers, and the mild use of dialect ("I wants to wed"), but it is thoroughly inoffensive and charming in its portrayal of the suitor whose desires are held at bay (or invited) by his girl who asks to "coaxed." The lighthearted, even humorous tone of the song's opening is delightfully contrasted by its slyly salacious chorus.
A night in June, a lovely moon,
Beneath the trees two dusky lovers wooing.
He softly sighs, she rolls her eyes,
Soon just like a turtle dove he's sweetly cooing:
"On those ruby lips I'd like to press a kiss Lize,
Just one or two, perhaps a few;
Can't I take you in my arms, a moment's bliss, Lize,
Just because you are the girl I wants to wed?"
But she said:
Coax me, go on and coax me,
If you love me madly, want me badly,
Coax me, go on and coax me,
I'll be your tootsie, wootsie, if you'll coax me.
Once more he sighs, "I love you Lize,
If I should go just think what you'd be missing."
Then on the breeze, from 'neath the trees,
Came a noise that sounded just like someone kissing.
And a tender voice said "give me just one more, Lize;
That one I had made me so glad.
Don't you think you better make it three or four, Lize,
And I'll pay them back to you the day we wed."
But she said:
Coax me...
3. A Bird In A Gilded Cage
words by Arthur J. Lamb, music by Harry von Tilzer, 1900
When presented with the lyrics of this long-favorite song, von Tilzer agreed to pen the music only on the condition that Lamb make it clear in the song's text that the sad protagonist is the millionaire's wife, and not his mistress. This song is a classic example of the "sentimental ballad," the form which dominated music publishing during the period 1890-1905. The combination of high moral tone and "torch-song" seriousness make it both affecting and effective: it sold well over two million copies.
The ballroom was filled with fashions throng,
It shone with a thousand lights,
And there was a woman who passed along
the fairest of all the sights.
A girl to her lover then softly sighed,
There's riches at her command;
But she married for wealth, not for love he cried,
Though she lives in a mansion grand.
She's only a bird in a gilded cage,
A beautiful sight to see,
You may think she's happy and free from care,
She not, though she seems to be,
'Tis sad when you think of her wasted life,
For youth cannot mate with age,
And her beauty was sold,
For an old man's gold,
She's a bird in a gilded cage.
I stood in the churchyard just at eve,
When sunset adorned the west,
And looked at the people who'd come to grieve,
For loved ones now laid at rest.
A tall marble monument marked the grave,
Of one who'd been fashion's queen,
And I thought she is happier here at rest,
Than to have people say when seen:
She's only a bird...
4. Under The Bamboo Tree
words and music by Bob Cole, 1902
Ragtime began to have an impact throughout the country as an infectious and influential new musical form, and by 1900, was being denounced steadily in the mainstream musical press as obscene and vulgar. Its origins in saloons and brothels notwithstanding, ragtime rhythms and harmonic inventions began to appear in songs of considerable popularity around the turn-of-the-century; the present one was one of the
most successful. Originally submitted to the publisher as If You Lak-a Me, it eventually achieved so much success, that a touring vaudeville show under the title Under the Bamboo Tree was still on the circuit in the early 1920's. Bob Cole was well established as a composer of "coon songs," usually with his vaudeville act partner, J. Rosamund Johnson. Other examples of their partnership include their 1890 hit, La Woola Boola (later to be adapted as Yale University's "Boola" song), My Castle on the Nile (1901), I've Lost My Teddy Bear (1905), and My Lu Lu San (1905). The lyrics of Under the Bamboo Tree are of the "coon song" category, though compared to many, this song is gentle, even humorous, and its lyrics appealed to a popular fascination with exotica.
Down in the jungles lived a maid,
Of royal blood though dusky shade,
A marked impression once she made
Upon a Zulu from Matabooloo;
And every morning he would be
Down underneath a bamboo tree,
Awaiting there his love to see
And then to her he'd sing:
If you lak-a-me, lak I lak-a-you
And we lak-a-both the same,
I lak-a say, this very day,
I lak-a-change your name;
'Cause I love-a-you and love-a-you true
And if you-a-love-a-me.
One live as two, two live as one,
Under the bamboo tree.
And in this simple jungle way,
He wooed the maiden every day,
By singing what he had to say;
One day he seized her and gently squeezed her,
And then beneath the bamboo green,
He begged her to become his queen;
The dusky maiden blushed unseen
And joined him in his song.
If you lak-a-me...
This little story strange but true,
Is often told in Mataboo,
Of how this Zulu tried to woo
His jungle lady in tropics shady.
Although the scene was miles away,
Right here at home I dare to say,
You'll hear some Zulu every day
Gush out this soft refrain:
If you lak-a-me..
5. In My Merry Oldsmobile
words by Vincent Bryant, music by Gus Edwards, 1905
Gus Edwards was one of Tin Pan Alley's most important personalities. Born in Germany in 1879 and arriving in America at the age of eight, Edwards soon established himself in vaudeville, first as a child singer and song plugger, then as a lead performer, composer and publisher, and later as a writer and producer of vaudeville acts. His early songs, such as I Couldn't Stand To See My Baby Lose (1899), were followed by many huge hits including Tammany Hall (1905), I Just Can't Make My Eyes Behave (1906), School Days (1907), which sold three million copies, and By the Light of the Silvery Moon (1909). Edwards died in Hollywood in 1945. In My Merry Oldsmobile was one of the first of many songs about cars, and proof that the automobile has been associated with seduction and courtship from the beginning! Other intriguing titles from the period include Henry's Made a Lady Out of Lizzy, Give Me a Spin in Your Mitchell, Bill, Cole 30 Flyer, and The Love Story of the Packard and the Ford. The catalyst for In My Merry Oldsmobile was the first-ever transcontinental trip by car, from Detroit to Portland, OR. The journey, made by two Oldsmobiles, took forty-four days. On the vaudeville stage, the song would typically be sung by a performer dressed in driving gear: a long white coat, a visored white cap, and goggles.
Young Johnnie Steele has an Oldsmobile,
He loves a dear little girl,
She is the queen of his gas machine,
She has his heart in a whirl.
Now, when they go for a spin, you know,
She tries to learn the auto, so
He lets her steer while he gets her ear,
And whispers soft and low;
Come away with me Lucile
In my merry Oldsmobile,
Down the road of life we'll fly
Automobubbling, you and I.
To the church we'll swiftly steal,
Then our wedding bells will peal,
You can go as far as you like with me,
In my merry Oldsmobile.
They love to spark in the dark old park
As they go flying along,
She says she knows why the motor goes;
The sparker's awfully strong.
Each day they spoon to the engine's tune,
Their honeymoon will happen soon,
He'll win Lucile with his Oldsmobile
And then he'll fondly croon;
Come away...
6. Pleasant Moments
Scott Joplin, 1909
Scott Joplin was born in 1868 in Texarkana, TX, lived and worked in Sedalia and St. Louis, MO, and eventually moved to New York, where he died in 1917. Joplin's place in history hardly needs to be argued for here, but it is sometimes forgotten that, though he is rightly associated with the form he himself brought to maturity, ragtime, he was often thinking of grander and, sometimes, subtler musical forms. On the other end of the spectrum from his full-scale ragtime opera, Treemonisha, Pleasant Moments explores a relatively untapped corner of the ragtime world: the ragtime waltz. Preceded in 1905 by the waltz Eugenia, Pleasant Moments is a slighter, more unabashedly cheerful composition, and one which makes a compelling argument for the waltz form in ragtime. It lies perfectly on the guitar.
7. Let Me Call You Sweetheart
words by Beth Slater Whitson, music by Leo Friedman, 1910
Born in Illinois in 1869, Leo Friedman was the author and publisher of many successful songs. In addition to the present one, he wrote Baby Mine (1901), Meet Me Tonight in Dreamland (1909) and an "answer song" to Let Me Call You Sweetheart called Since You Called Me Sweetheart (1925). A simple but charming waltz ballad, Let Me Call You Sweetheart sold over five million copies when published in 1910, a previously unheard-of number for a song's first year of release. Similar numbers were reached that year by Tell Taylor's Down By the Old Mill Stream. Such extraordinary commercial successes led to the 1913 start of a weekly tabulation of sheet music sales, published in Billboard: the first pop chart in music history! Let Me Call You Sweetheart is still a favorite of barbershop quartets.
I am dreaming dear of you, day by day.
Dreaming when the skies are blue, when they're grey;
When the silv'ry moonlight gleams,
Still I wander on in dreams
In a land of love, it seems, just with you.
Let me call you 'Sweetheart'
I'm in love with you
Let me hear you whisper
That you love me too.
Keep the love-light glowing
In you eyes so true
Let me call you 'Sweetheart,'
I'm in love with you.
Longing for you all the while, more and more,
Longing for the sunny smile, I adore;
Birds are singing far and near,
Roses blooming ev'rywhere,
You, alone, my heart can cheer, you, just you.
Let me call…
8. After The Ball
words and music by Charles K. Harris, 1892
Long regarded as the song which launched the modern music publishing industry, After the Ball was the first to sell five million copies. Charles K. Harris, born in 1867, moved from Milwaukee to New York to open his own publishing firm, having thus far published only one other song, for a royalty check of 85 cents. Before his death in 1930, Harris had produced many successful songs, including I'm Trying So Hard to Forget (1893), Break the News to Mother (1897), Hello Central, Give Me Heaven (1901), and The Best Thing In Life (1907). It was After the Ball however, published in 1892 and Harris' first hit, which lasts in memory not only as his most effective song, but as the piece of sheet music which truly changed an entire industry. In order to get the song premiered, Harris had to pay a performer cash and a percentage of sales royalties. Nevertheless, at the first performance's conclusion, the audience remained quiet for a full minute, then rose as one for a wild standing ovation lasting a full five minutes. After only one year, Harris was receiving over $25,000/week from royalties from this song; a band arrangement of it became a regular feature of programs by John Philip Sousa, it was vaudevillian Helene Mora's showstopper, and it eventually sat on pianos in homes across America, creating a frenzy among other composers and publishers for a repeat of this amazing new money-making phenomenon: the popular song.
A little maiden climbed an old man's knee,
Begged for a story "do Uncle please.
Why are you single; why live alone?
Have you no babies; have you no home?"
'I had a sweetheart, years, years ago;
Where she is now, pet, you will soon know.
List' to the story, I'lltell it all,
I believed her faithless after the ball.'
After the ball is over, after the break of morn,
After the dancers' leaving; after the stars are gone;
Many a heart is aching if you could read them all;
Many the hopes that have vanished after the ball.
Bright lights were flashing in the grand ballroom.
Softly, the music playing sweet tunes.
There came my sweetheart, my love, my own.
'I wish some water; leave me alone.'
When I returned, dear, there stood a man,
Kissing my sweetheart as lovers can.
Down fell the glass pet, broken, that's all,
Just as my heart was after the ball.
After the ball...
Long years have passed child, I've never wed,
True to my lost love, though she is dead.
She tried to tell me, tried to explain;
I would not listen, pleadings were vain.
One day a letter came from that man,
He was her brother, the letter ran.
That's why I'm lonely, no home at all;
I broke her heart pet, after the ball.
After the ball...
9. Good Bye, My Lady Love
words and music by Joseph E. Howard, 1904
Goodbye My Lady Love is most easily classified as a novelty song. Picking up on the syncopated rhythms of ragtime, it has a catchy, singable tune and a pleasing twist in the lyrics. Born in New York in 1878, Howard's earliest success was another ragtime song, Hello, My Baby (1899), one of the first songs about the telephone. He went on to a successful performing career on stage and later on radio. Other hit songs of Howard's include Honey, Will You Miss Me When I'm Gone (1902), Central, Give Me Back My Dime (1906), and It Must Be Great To Be a General (1910). In addition to individual songs, Howard wrote at least twenty musical shows for vaudeville and Broadway before his death in Chicago in 1961, including The Golden Girl (1909) and Love and Politics (1911). He is best known, however, for the sentimental ballad I Wonder Who's Kissing Her Now (written in 1909 with Harold Orlob). A film biography of Howard was released in 1947 by the same title, with Mark Stevens playing the part of Howard.
So you're going away
Because your heart has gone astray,
And you promised me
That you would always faithful be.
Go to him you love,
And be as true as stars above;
But your heart will yearn,
And then some day you will return.
Good bye, my lady love,
Farewell, my turtle dove,
You are the idol and darling of my heart,
But some day you will come back to me,
And love me tenderly,
So good bye my lady love, good bye.
When the dewdrops fall,
'Tis then your heart, I know will call.
So beware my dove,
Don't trust your life to some false love.
But if you must go,
Remember dear, I love you so;
Sure as stars do shine,
You'll think of when I called you mine.
Goodbye...
10. Shine On, Harvest Moon
music and lyrics by Nora Bayes & Jack Norworth, 1908
Although the song's actual genesis is uncertain, Shine On Harvest Moon is assumed to have been written by the vaudeville star that made it her calling card, Nora Bayes, with her second husband, Jack Norworth (she had five marriages). Bayes, born Dora Goldberg in Illinois in 1880, distinguished herself as both a successful singer/actress in vaudeville and on Broadway and as a composer. Other hit songs by her include Anybody Here Seen Kelly and Come Along, My Mandy (both 1910). Known for a time as "The Wurtzburger Girl." for her popular routine featuring Harry von Tilzer's Down Where the Wurtzburger Flows, Bayes replaced that song with this one, introducing it in the Zeigfeld Follies of 1908. In 1917, she became associated with G. Cohen's war song Over There and before her death in Brooklyn in 1928, she made an impressive number of recordings. A screen adaptation of the lives of Nora Bayes and Jack Norworth, featuring Ann Sheridan and Roy Rogers, was released in 1938 under the name Shine On Harvest Moon. Bluesy and sensuous, the song retains its appeal today.
The night was mighty dark so you could hardly see,
For the moon refused to shine,
Couple sitting underneath a willow tree,
For love they pine.
Little maid was kinda 'fraid of darkness
so she said,'I guess I'll go,'
Boy began to sigh,
Looked up at the sky,
Told the moon his little tale of woe.
Oh, shine on, shine on harvest moon up in the sky.
I ain't had no lovin' since April, January, June or July.
Snow time ain't no time to stay out doors and spoon,
So shine on, shine on harvest moon,
For me and my gal.
11. Peacherine Rag
Scott Joplin, 1901
Written in 1901, Peacherine Rag was very well-received. It was declared that it was "used by the leading piano players and orchestras" in a Sedalia [MO] Timesreview in 1902. Published by John Stark & Sons, the firm with which Joplin was to have a long and fruitful relationship, it was the first piece to proclaim on its cover that Joplin was the "King of Ragtime Writers." Written during a particularly fruitful period in his life, while he was living in St. Louis, Joplin also produced at this time such hits as Easy Winners, The Entertainer, and Gladiolus Rag. Peacherine Rag sounds perfectly natural on the guitar.
12. Daisy Bell (A Bicycle Built for Two)
words and music by Harry Dacre, 1892
So familiar that it could be mistaken for a folk song, Daisy Bell was actually the first song written in America by the English composer, Harry Dacre. Dacre, born in London in 1860, emigrated to find success in the composition and publication of vaudeville songs, many of which found their way back to England to be rediscovered as hits of the Music Hall era. Other songs by Dacre include Katie O'Connor (1891), Elsie From Chelsea (1896), and Jolly Little Polly on her Gee-gee-gee (1905). Dacre returned to London later, where he died in 1922. Apparently, upon his initial visit to America, Dacre brought along his bicycle, the object of a recent sporting craze in England. At the pier, a friend noticed he had been charged duty for the bike, and commented that it was lucky he didn't have a bicycle built for two, or he'd have been charged double duty. The phrase "a bicycle built for two" stayed with Dacre and became the identifying lines of the song Daisy Bell.
Daisy, Daisy, Give me your answer do!
I'm half crazy, All for the love for you!
It won't be a stylish marriage,
I can't afford a carriage,
But you'll look sweet
On the seat
Of a bicycle built for two!
There is a flower within my heart, Daisy, Daisy
Planted one day by a glancing dart,
Planted by Daisy Bell!
Whether she loves me our loves me not,
Sometimes it's hard to tell;
Yet I am longing to share the lot
Of beautiful Daisy Bell!
Daisy, Daisy...
13. Teasing
words by Cecil Mack, music by Albert von Tilzer , 1904
Harry von Tilzers younger brother, Albert, (born in Indianapolis in 1878, and died in Los Angeles in 1956) followed his brother's footsteps from Chicago to New York and became a successful songwriter and publisher in his own right. In addition to this slightly bluesy song, he wrote such hits as The Moon Has Eyes On You (1905), Oh, How She Could Yacki, Hacki, Wicki, Wacki, Woo (1916), and I Used To Love You But Its All Over Now (1920). Albert von Tilzer is most famous for a song that has truly become one of America's favorites, Take Me Out To The Ball Game (1908), written, with words by Jack Norworth, a full twenty years before he saw his first baseball game!
I feel so awful blue,
I really don't know what on earth to do;
Never thought my Evalina would flirt,
I'm on the alert 'cos my feelings is hurt.
I caught her on the sly,
A-making eyes at fellers passing by;
I told her in a gentleman way,
And this is all she had to say:
'Teasing, teasing, I was only teasing you.
Teasing, teasing, just to see what you would do.
(Of course you know that I was)
Teasing, teasing, to find out if your love was true;
Don't be angry, I was only teasing you.'
I guess she thinks she's smart,
To go and trample on a poor man's heart.
Don't intent to stand her teasing no more,
I'll go hunting for gore around somebody's door.
Sometimes I think I'll leave,
And try to find myself another Eve,
But what's a feller going to do,
When she rolls them eyes and says to you:
'Teasing, teasing…
14, Moonlight Bay
words by Edward Madden, music by Percy Wenrich, 1912
Born in Joplin, MO, in 1887, Wenrich moved to New York in 1908. In 1909, he found success with Put On Your Old Grey Bonnet, which sold over two million copies. Other hits included Up in a Balloon (1908), and When You Wore a Tulip (1912). In addition to songs, Wenrich was an accomplished barroom pianist and the composer of numerous successful solo piano rags. Before his death in New York in 1952, Wenrich also wrote several Broadway shows, including The Right Girl (1921) and Castles in the Air (1926). On Moonlight Bay remains in the singalong repertoire of most Americans even today, so popular and catchy is the melody of the chorus.
Voices hum, crooning over Moonlight Bay,
Banjos strum, tuning while the moonbeams play.
All alone unknown they find me.
Memories like these remind me
Of the girl I left behind me,
Down on Moonlight Bay.
We were sailing along on Moonlight Bay,
We could hear the voices ringing, they seemed to say
'You have stolen my heart, now don't go 'way!'
As we sang Love's Old Sweet Song, on Moonlight Bay.
Candle lights gleaming on the silent shore,
Lonely nights, dreaming till we meet once more.
Far apart, her heart is yearning
With a sigh for my returning,
With the light of love still burning,
As in days of yore.
We were sailing...
15. The Chrysanthemum
Scott Joplin, 1904
Subtitled "An Afro-Intermezzo," The Chrysanthemum, in fact shows little debt to African musical influences and is in many ways one of his most 'classical' compositions. It features little syncopation and possesses a deep, introspective quality. John Stark, in his initial advertisements for the piece, claimed that Joplin wrote it as the result of a dream he had after reading Lewis Carroll's Alice's Adventures in Wonderland. Early in 1904, on a trip to his home town of Texarkana, Joplin met a young woman who made a strong impression on him, named Freddie Alexander. The Chrysanthemum was written for her and in its original issue, carried on its front the inscription "Respectfully Dedicated to Miss Freddie Alexander, Little Rock, Ark."
16. You Tell Me Your Dream, And I'll Tell You Mine
words by Seymore Rice & Albert H. Brown, music by Charles N. Daniels, 1899
Charles Daniels, born in Kansas in 1878, had his first big success with the song Hiawatha (1901). He went on to pen such titles as Silver Heels (1905), On Mobile Bay (1910), and She's Funny That Way (1928). In 1915, he formed a publishing house, often releasing his own works under the pen-name of Neil Moret. Daniels died in Los Angeles in 1943. A classic sentimental ballad of the "story" type, You Tell Me Your Dreams is a successful attempt at tugging the heartstrings.
Two little children one morning,
After their breakfast was o'er,
Were laughing and playing together,
Alone on the dining room floor.
The girl, of a dream, had been talking,
But refused with a toss of her head
To tell it all to her playmate, until he coaxingly said:
You had a dream, well, I had one too,
I know mine's best 'cause it was of you.
Come sweetheart, tell me, now is the time:
You tell me your dream, I'll tell you mine.
Tom said 'I dreamed you had promised,
That someday we should be wed'
'Why that's just exactly like my dream,'
Mary then blushingly said;
Time, they say, brings many changes,
But their love no change ever knew,
And so they were happily married;
The dream of their childhood came true.
You had a dream...
Sadness has entered the household,
Where happiness once reigned supreme.
The sunshine of life now has vanished,
Grief has dispelled their bright dream;
For Mary, his kind loving helpmate,
Had yesterday passed away,
And in sorrow, Tom thinks of the morning,
When in childhood to her he did say:
You had a dream...
17. When You Were Sweet Sixteen
words and music by James Thornton, 1898
One of the most prolific ballad composers of the 1890's, James Thornton came to America from England, where he was born in 1861. Launched in 1890 with the hit My Sweetheart Is the Man on the Moon, Thornton went on to compose many other successful ballads, including She May Have Seen Better Days (1894), The Streets of Cairo (1895), and It Don't Seem Like the Same Old Smile (1896). His biggest hit that decade, though, was When You Were Sweet Sixteen, written as a love song to his wife, vaudevillian Bonnie Thornton. A thoroughly sentimental song, it still has the power to affect the listener. Thornton went on to pen another hit still well-known, Sweet Adeline (1903); it remains a favorite of men's quartets and choirs today.
When first I saw the love-light in your eye,
And heard thy voice like sweetest melody,
Speak words of love to my enraptur'd soul,
The world had not but joy in store for me.
E'en though we're drifting down life's stream apart,
Your face I still can see in dream's domain;
I know that it would ease my breaking heart,
To hold you in my arms just once again.
I love you as I never lov'd before,
Since first I met you on the village green,
Come to me, or my dream of love is o'er,
I love you as I loved you, when you were sweet,
When you were sweet sixteen.
Last night I dreamt I held your hand in mine,
And once again you were my happy bride.
I kiss'd you as I did in Auld Lang Syne,
As to the church we wander'd side by side.
The love I bear for you can never die;
Without you I had rather not been born;
And even tho' we never meet again,
I love you as the sunshine loves the morn.
I love you as...
18. Let The Rest Of The World Go By
words by J. Kiernan Brennan, music by Ernest R. Ball, 1909
The composer of many of the most beloved ballads from the first decade of this century, Ernest R. Ball came to New York from Cleveland, where, born in 1878, he received his education at the Cleveland Institute of Music. The first song he wrote, with words by the New York politician (and future mayor), James Walker, was an enormous hit, Will You Love Me In December As You Do In May? (1903). After that, Ball penned numerous successful ballads, including Love Me and the World Is Mine (1906), Mother Machree (1910), Till the Sands of the Desert Grow Cold (1911), When Irish Eyes Are Smiling (1912), and the present song. Let the Rest of the World Go By was featured in a film biography of Ernest Ball, When Irish Eyes are Smiling, released in 1944, seventeen years after his death, and featuring Dick Haymes. Movie buffs will also recognize the melody of Let the Rest of the World Go By as the theme song of the film Out Of Africa with Meryl Streep and Robert Redford.
Is the struggle and strife
We find in this life
Really worthwhile, after all?
I've been wishing today
I could just run away,
Out where the west winds call.
With someone like you, a pal good and true,
I'd like to leave it all behind, and go and find
Some place that's known to God alone,
Just a spot to call our own.
We'll find perfect peace, where joys never cease,
Out there beneath a kindly sky,
We'll build a sweet little nest
Somewhere in the west,
And let the rest of the world go by.
Is the future to hold
Just struggles for gold
While the real world waits outside,
Away out on the breast
Of the wonderful west,
Across the great divide?
With someone like you...
Select Bibliography
Berlin, Edward A. King of Ragtime, Scott Joplin and His Era. Oxford University Press, New York, 1994
Cohen-Stratzner, Barbara. Popular Music 1900-1919. Gale Research, Inc. Detroit, MI, 1988.
Curtis, Susan. Dancing to a Black Man's Tune, A Life of Scott Joplin. University of Missouri Press, Colombia, MO, 1994.
Ewen, David. All the Years of American Popular Music. Prentice-Hall, Inc., Englewood Cliffs, NJ, 1977.
Hamm, Charles. Yesterdays, Popular Song in America. W. W. Norton & Co., New York,
1979.
Haskins, James, with Kathleen Benson. Scott Joplin. Doubleday & Co., Inc., Garden City, NY, 1978.
Levy, Lester S. Give Me Yesterday. University of Oklahoma Press, Norman, OK, 1975.
Meyer, Hazel. The Gold in Tin Pan Alley. Greenwood Press, Westport, CT, 1958.
Pafik, Marie-Reine A., with Anna Marie Guiheen. The Sheet Music Reference and Price Guide, 2nd ed. Collector Books, Paducah, KY, 1995.