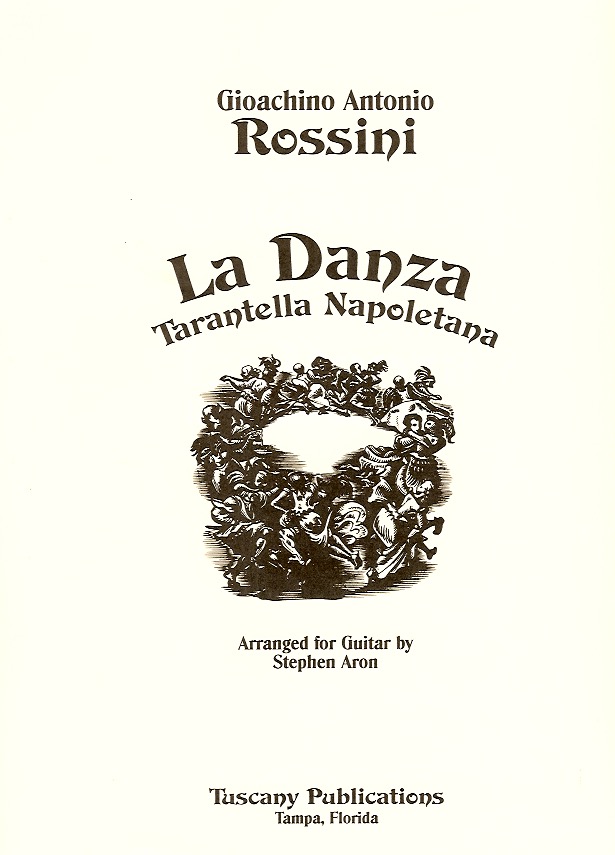 La Danza
"a little masterpiece...remarkably idiomatic" (GFA Soundboard)
$8.00 + $3.00 S&H (USA only)
Published by Tuscany Editions, 8p.
Gioachino Antonio Rossini (1792-1868) had fully established himself as Italy's most important and celebrated composer by the time of his move to France in 1824, at the age of 32. He had written 34 operas, including such continuing favorites as Il Barber di Siviglia, Le Cenerentola, La Donna del lago. He wrote his final opera, now in French, Guillaume Tell, in Paris. Rossini then began a self-imposed retirement that lasted some 30 years. During this period, he composed the occasional song, usually for a specific occasion. The songs were gathered and published in 1835 as "Soirée musicales." The present song, La Danza, is one of the eight arias and four duets in the collection. According to Francis Toye,
"In spite of the apparent casual nature of their origin, [the Soirée musicales] deserve to rank among Rossini's best compositions. Beautifully written for the voice, with accompaniments that are a model of delicacy and charm, they show unusual care in workmanship. 'La Danza,' that intoxicating tarantella once so splendidly sung by Caruso, is deservedly the best known of them, for it is a little masterpiece"
The tarantella is a folk dance from southern Italy, specifically the town of Taranto. In spite of the persistence of the tale, there is no foundation for the assertion that the tarantella is derived from attempts to kill a tarantula or to cure its poisonous bite. The dance form, a fast, often accelerating 6/8 with shifts between major and minor modes, became popular throughout Europe during the 19th century and examples can be found in the works of Chopin, Liszt, Weber and others. Among guitar composers, Mauro Giuliani wrote several. There are also well-known examples by J. K. Mertz and, more recently, M. Castelnuovo-Tedesco.
The present arrangement, while drawing its material from a work for voice and piano, loses little in the translation. In fact, it lies surprisingly well on the guitar and works convincingly as an instrumental composition. A virtual tour-de-force for the stage, this seemingly virtuosic but remarkably idiomatic offering gives guitarists a welcome "major composer" addition to the early 19th-century repertoire.